For decades, the American department store Nordstrom has been known for its legendary customer service. It's truly in a league of its own. Now, in the wake of the pandemic and the changes it brought to customer service, the world's most successful companies have taken a page out of Nordstrom's playbook and become increasingly customer-focused.
With the rise of this customer-centric approach to business, companies are becoming more data-driven in how they approach everything from sales to HR to customer service. While KPIs, data dashboards, and CRMs are invaluable tools for helping to provide world-class service, people are the most important component.
Figuring out how to motivate customer service teams is a hot topic in meeting rooms around the world. Customer service is difficult work. In 2016, the average longevity of a US call center employee was 3 years, with a turnover of 33%. The pandemic further increased demands on these frontline employees, and companies are scrambling to find new ways to reduce turnover and improve customer service motivation among their customer service teams.
As companies look into how to improve team performance and provide better customer service, one very effective tactic is through celebrating accomplishments. Gallup surmises that many organizations are overlooking one of the most effective employee retention strategies— celebrating employee success —which it touts as a "low cost, high impact" way to make employees feel valued.
---
What does it mean to "celebrate success at work?"
Positive reinforcement is one of the most effective tactics for creating a performance-driven culture in any organization. "Celebrating success" is a method of positive reinforcement that recognizes employees' contributions in order to motivate them to keep achieving their best. With the rise of remote and hybrid customer service work, building a sense of camaraderie in teams can be particularly challenging. Celebrating success is an effective way to get people cheering each other on while building team spirit—even when the team is scattered across many locations.
Dolly Draze, Lead Product Manager at Zoho CRM, has seen the benefits that come from deciding to celebrate success in her remote team, "Not only does it make targets more achievable but it also builds a spirit of teamwork. It helps your teams work together despite being in different locations."
Celebrating success, whether it's big or small, reinforces positive behavior with recognition that motivates people to repeat the behavior that led to that success. Many call centers are turning to gamification, which data suggests results in 10% higher customer satisfaction rates vs. companies that don't. However, for organizations that aren't ready to go all-in or that want to supplement their gamification efforts, there are other tactics.
---
How Celebrating Achievements Improves Customer Service Motivation
Customer service work can be tedious with seemingly endless calls from dissatisfied customers unloading their frustrations. The monotony and negativity can kill even the most devoted employee's motivation. But there's a way to "hack the system."
People's brains are hardwired to crave the mood-regulating "reward chemicals" that are released when they feel proud or significant. Celebrating small victories every day releases serotonin and makes people feel appreciated. If work can't be fun, the next best thing is to make it rewarding! Getting this right can reignite waning enthusiasm, improve team performance, and help employees stay motivated and engaged by tapping into their inherent need for achievement, recognition, and rewards.
When you celebrate success every day, existing call center processes become more engaging—which can improve overall customer service motivation and improve team performance. It's an effective tool for cultivating specific behaviors that drive positive results and create an engaging workplace that supports and motivates employees to consistently hit their KPIs and deliver better customer service.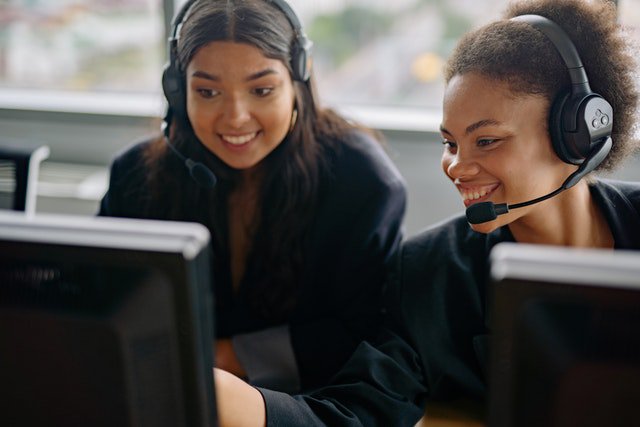 Customer Service Motivation Factors
How you celebrate success is as important as why you celebrate success. With any incentive program, it's essential to understand that people inherently fall somewhere on the spectrum between intrinsic and extrinsic motivation. It's important to keep this in mind because how you celebrate achievements determines whether it will actually improve customer service motivation.
In customer service, intrinsically motivated employees find satisfaction in helping people. They're mostly motivated by intangible things like recognition and fulfillment, and they consistently achieve high customer satisfaction scores because they're always on the lookout for ways to provide better customer service.
Tangible rewards, like bonuses and prizes, are more likely to resonate with extrinsically motivated employees. Dangle a carrot in front of them, and they'll gladly pull out all the stops to provide dazzling levels of service and win the reward.
---
Why is it important to celebrate success at work?
Research has found that 79% of US employees leave their jobs because they don't feel appreciated. 65% say that they haven't received any recognition at work within the past year, and 78% say they'd work harder if they were given more recognition. These are statistics that managers in high-turnover environments like customer service can't afford to ignore.
If you're looking into how to motivate customer service teams, there's a business reason behind your pursuit. In high-turnover departments like customer service, attrition is always a concern. But the reason the customer service team exists in the first place is to retain customers. Therefore, the successes you choose to celebrate in the workplace should be tied to business goals.
If you're this far along the research path, your department probably has well-defined KPIs—which is the best place to start celebrating!
You're likely to have individual and team goals around:
Number of calls handled
Average handle time
First contact resolution
Customer satisfaction ratings
Average hold time
Average time to answer
Call rate without escalation

Celebrating aggressive targets around these goals is a fantastic low-entry route into testing the waters. As you gain your footing, you can get more creative.
Less business-driven opportunities for celebrating personal success can include "first wins", which are a great way to recognize new employees, or recognizing when someone gives a "hand-up"—aka when teammates help teammates.

---
---
How to Motivate Customer Service Teams: 4 Ways to Celebrate Team Success
When you celebrate team success, make sure to highlight the action that's being celebrated, the action's impact on the company or the department, and the reward.
The following four tactics are designed to trigger the release of serotonin, which improves customer service motivation, can improve team performance, and ultimately lead to better customer service. We've included a mix that will appeal to the full spectrum of customer service motivation factors.
1. Daily Team Challenges
Daily team challenges are an excellent ongoing way to build camaraderie, even if the team is scattered across multiple locations. Divide your reps into teams and introduce a challenge around a KPI you'd like to improve. This works great with most of the KPIs we've listed above. Allow the teams 5–10 minutes at the start of their shift for a virtual or in-person "huddle-up" to talk strategy. Meet up again at the end of the day to declare the winning team and award a prize. Switch up the teams regularly to help everyone get to know each other better and improve everyone's chances of experiencing success.

2. Instant Notifications
Instant notifications are one of the easiest and most cost-effective ways to celebrate success throughout the workday. Give immediate kudos by displaying fun instant notifications on your employees' computers whenever someone hits a specific KPI target. Set targets that are challenging but achievable. Too many instant notifications will quickly make them less interesting.

3. Hidden Prizes
Hidden prizes are a fun way to celebrate success on-the-fly for maximum recognition! This is an ongoing incentive for reps to win hidden prizes for going the extra mile, without knowing the specifics of what constitutes "the extra mile." When someone goes above and beyond to deliver extraordinary service, make sure to reward them and let everyone know what they've done. This is a fantastic tool that keeps the need to deliver outstanding service at the top of everyone's mind.

4. Flash Challenges
Flash challenges are great for driving immediate action. Keep it small and simple. For example, whoever gets the highest average customer service rating or handles the most calls by the end of the day gets Friday afternoon off. Are handle and hold times creeping up? Announce a weekly KPI challenge where any rep who hits a certain target in a day wins a prize—allow multiple wins by the same rep, and watch them crush their targets!
Start your free trial today
Get started in minutes. No credit card required.
How to Motivate Customer Service Teams with Great Prizes
Ongoing recognition that makes people feel noticed and appreciated is at the heart of celebrating success in everyday operations. Whether someone leans toward intrinsic or extrinsic motivators, it's the little things that matter. While a heartfelt high-five or a nice email is enough to get the serotonin flowing, a small token of appreciation never hurts.

Here are five unexpected and low-to-no-cost prizes that are a well-received complement to the activities we've mentioned above.
1. Permission to leave early or come in late
This minimal-cost incentive is a big reward for the recipient. Make it a half-day Friday or a few hours each day for a week!
2. Preferential scheduling
Who doesn't want more control over their schedule? If you work in an environment with varying schedules, tie this one to the team challenges by dividing the teams into tiers based on their performance and allowing them first, second, third, etc. pick of scheduling for the next month.
3. Workday conveniences
Think of ways to make your employees' days a little more pleasant. Maybe they'd like to choose their own break and lunch times, sit by a window, or have a parking space close to the building in the dead of winter or dog days of summer. Little perks like these can go a long way in making people feel recognized.
4. Lottery tickets
This low-cost incentive is exciting and has the potential for a big payday!
5. Paid lunch in the cafeteria or a gift card to a local takeaway
Who doesn't enjoy a free lunch?
Tools to Celebrate Success In The Workplace and Improve Team Performance
A variety of easy-to-use tools can help you track performance and identify when it's time to celebrate!
Plecto's customer service dashboards can help your company meet the demand for world-class customer service. By visualizing key customer service metrics in one place, you can improve efficiency and help your team provide better customer service.
Plecto also integrates with the most popular CRM and support systems to help visualize and track key metrics related to important customer service activities, including ticketing systems, phone calls, satisfaction ratings, and more!
When you sign up for Plecto, you'll also get access to powerful gamification software with features like leaderboards, instant notifications, points, and achievement badges.