Recognize immediately
Acknowledge success by displaying notifications of your sales representatives on TVs around the office when they close a deal. Want more bang for your bucks? Take it to the next level with personal YouTube-videos, Phillips Hue lights reactions and notifications in your Slack channels.
See how other sales teams use Plecto
"It has helped our team reach our Goals by simply displaying sales for day to day. This is making the internal competition better by visualising the performance live."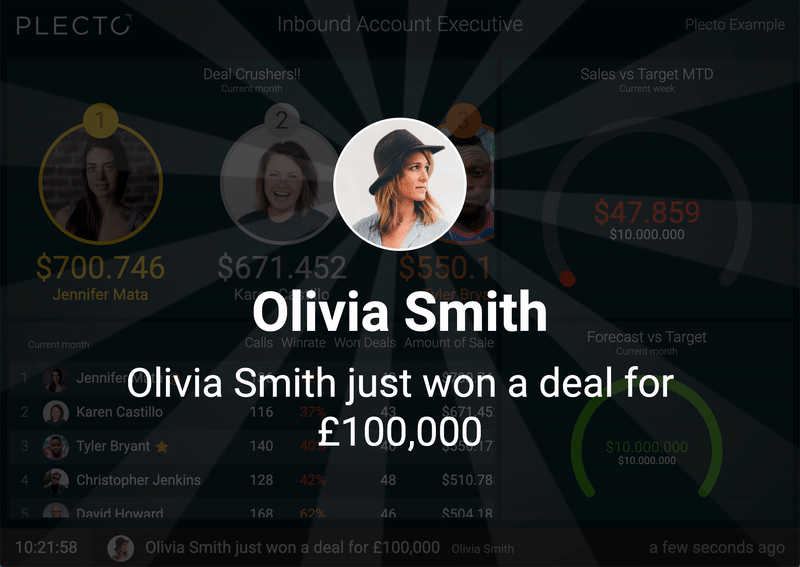 Instant feedback from clients to agents
Share good ratings and feedback on dashboards around the office as soon as they are submitted by your customers, or recognize each employee for saving a customer from churning. Let them know they did a great job!  
See how leading Customer Service teams use Plecto
"Our customer satisfaction is extremely important for us, that's also one of the reasons why we have Plecto in our customer service. I would definitely recommend Plecto to anyone who is to scale up their company"
Recognize your top performers
We know firsthand there's often a lack of recognition towards developers. With notifications, we provide you with an opportunity to give the rest of your organization insight into your progress by displaying notifications when developers deploy new updates to the product.
Stay on top of your campaigns
Get notified when performance goes below a certain threshold both overall and for specific campaigns. This allows you to react much faster to campaigns performances and allocate your ad spend accordingly.
See how leading Marketing teams use Plecto
"Plecto allows me to see which channels are performing and which channels are not. This makes it easy for us to adjust our marketing efforts in real time. Now we are more efficient and motivated."
Explore more features
Real-time Dashboards
Visualize KPIs on TVs around the office.
Contests
Set up contests across any KPI in a matter of seconds.
Real-time Reports
Save time with real-time reports in Plecto.
Performance Agreements
Set targets for each employee and follow progress in real-time.
Achievements
Challenge top performers with records and special awards.
Start your free trial today
Get started in minutes. No credit card required.