Real-time performance insights
Get informed as it happens
Stay on top of your successes and setbacks by visualizing your most important KPIs across multiple systems and departments on real-time dashboards.
Stay up to date at all times
The world doesn't stop when you are away from the office. Neither should the ability to view your team's progress. Our mobile app allows you to stay connected to your team anywhere, at all times.
Share the overview of the business with the whole team
Combine and share data from multiple systems
Import data from your different systems across-departments onto a single dashboard, and make the overview accesible to the whole organization to follow the business performance.
Create data-driven conversation
Data is transparent and accessible for your whole team! Promote data-driven conversations among your employees and management. Encourage a transparent culture by visualising your data on the dashboards.
"Real-time insights have a great influence on the team because real-time data is one of the things that motivate the agents the most."

Read case study
Engage and motivate your employees, daily
Display on TV screens in the office
Forget about weekly or monthly updates on how your team is doing. With Plecto you're able to show the results in real-time on TV screens around the office.
Recognize achievements instantly
Trigger notifications on TVs, desktops, tablets or smartphones to celebrate success together as a team. Because who wouldn't like to get recognized amongst their colleagues for a job well done?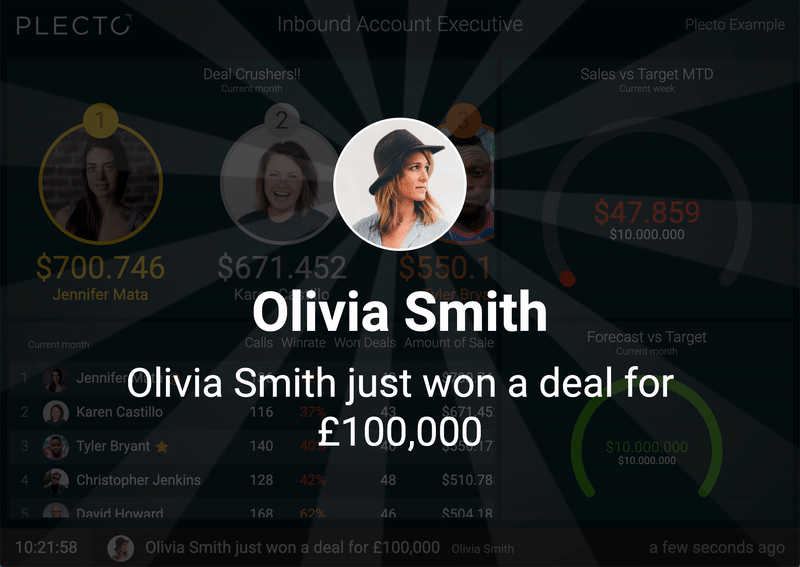 Build your own dashboard in just a few clicks
Choose from 200+ pre-built widgets
Set up a complete dashboard in just a few clicks with 200+ pre-built widgets. Simply connect a data source and choose from a list of popular widgets and you're good to go.
Show custom KPIs
If the pre-built widgets are not enough for your business, you can also create your own custom formulas and metrics to visualise any KPI you want to track on your dashboard.
"Great visualisation of sales performance completely live. Gamification helps to encourage team culture. Visibility of performance helps to drive success."
Create unlimited dashboards and data sources
As many dashboard as you need
There are no limits to the amount of dashboard that you can create in Plecto, so you can have as many as you need for your business! And what's best, for a fixed monthly price.
Integrate to all your systems
Add as many data sources as metrics you want to visualize on your dashboard, there are no limits! Integrate all your systems into Plecto and start importing your relevant data.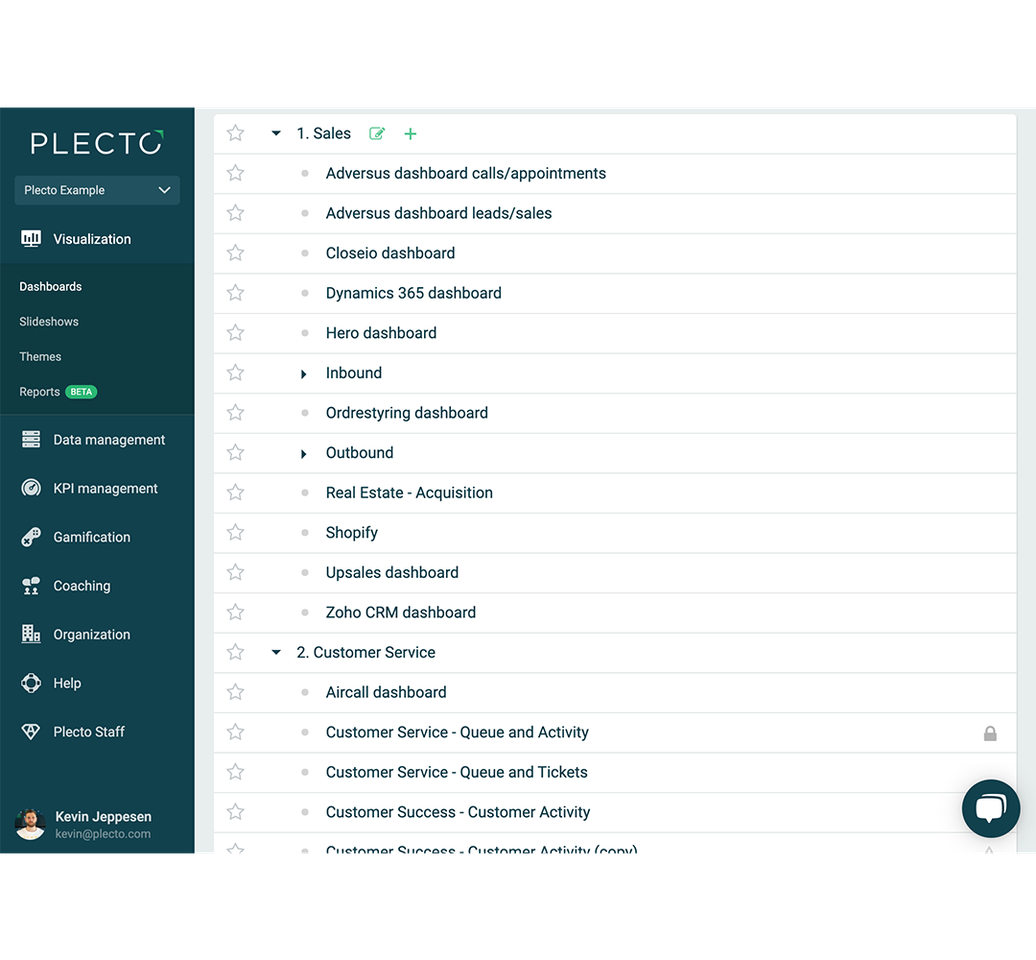 Personalize the theme to match your company
Choose the theme that fits your team best
You can decide the color, logo and styling of your Plecto dashboards to make it match with your company's brand identity. Be as creative as you want, or choose from our pre-built templates and themes.
Make Plecto part of the team
Data can be fun to look at when it's displayed on Plecto. Personalize every detail of the dashboard to integrate it in your routine at work, and start promoting data-driven conversations among colleagues.
Explore more features
Instant Notifications
Recognize and celebrate success as it happens.
Contests
Set up contests across any KPI in a matter of seconds.
Real-time Reports
Save time with real-time reports in Plecto.
Performance Agreements
Set targets for each employee and follow progress in real-time.
Achievements
Challenge top performers with records and special awards.
Start your free trial today
Get started in minutes. No credit card required.