Improve performance across systems and departments
With more than 50 pre-built integrations and our public API, Plecto allows you to gain a complete overview of your performance data across multiple systems and departments. Click the links below to see how others use Plecto.
Real-time performance insights
Stay on top of your performance by visualizing your most important KPIs on real-time dashboards from Plecto.
Learn more about our real-time dashboards
"Real-time insights have a great influence on the team because real-time data is one of the things that motivate the agents the most."
Instant employee recognition
Engage and motivate your employees by acknowledging individual and team successes as they happen. No more waiting for weekly or monthly reviews.
Learn more about our instant notifications
"Through gamification and visualization, Plecto has helped improve the company culture. We now experience a much better buy-in from our employees who take responsibility for the company's key results."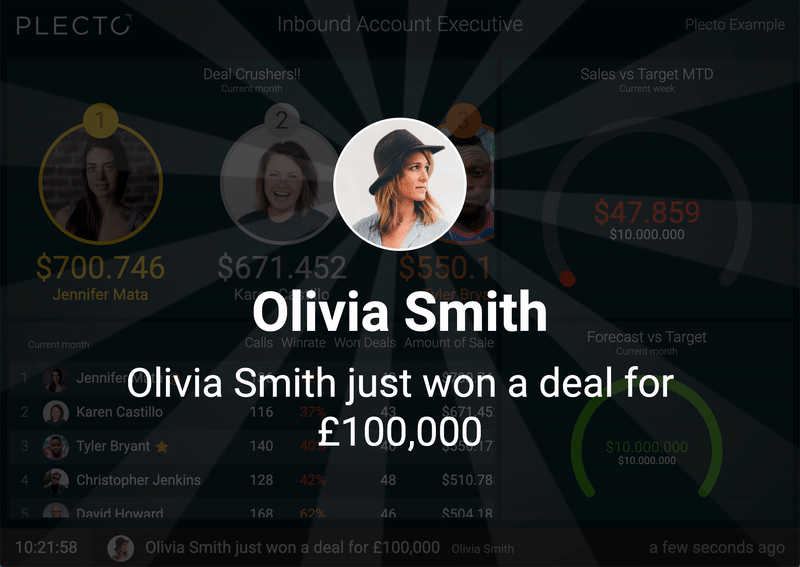 Automated reports within minutes
Create reports with automatically updated numbers and export them to Excel and PowerPoint in just a few clicks. Schedule to receive it daily, weekly, monthly or at any time that suits you. No more copy-pasting.
Learn more about our real-time reports
"This is a terrific software if you want to create reports on any data you can think of, including phone calls, conversion rates, and so much more."
Full customization capabilities
Customize your setup with advanced KPI formulas and branded themes for dashboards that match your company's needs. Or simply use our pre-built widgets for an easy setup.
"Plecto showed out to be an extraordinary, effective, and flexible tool which has brought us a lot of value both financially and for the motivation, employee satisfaction, and the culture in general."
Unlimited data sources and dashboards
We're not a big fan of strict limitations, so why would we limit you? With Plecto you get unlimited dashboards and data sources for a fixed monthly price. Visualize all the KPIs, metrics, and performance data you want.
"Plecto lets us collect data from all of our numerous data sources, with great integrations with the tools we use the most so we don't have to spend time building complicated reports or finding hidden datasets."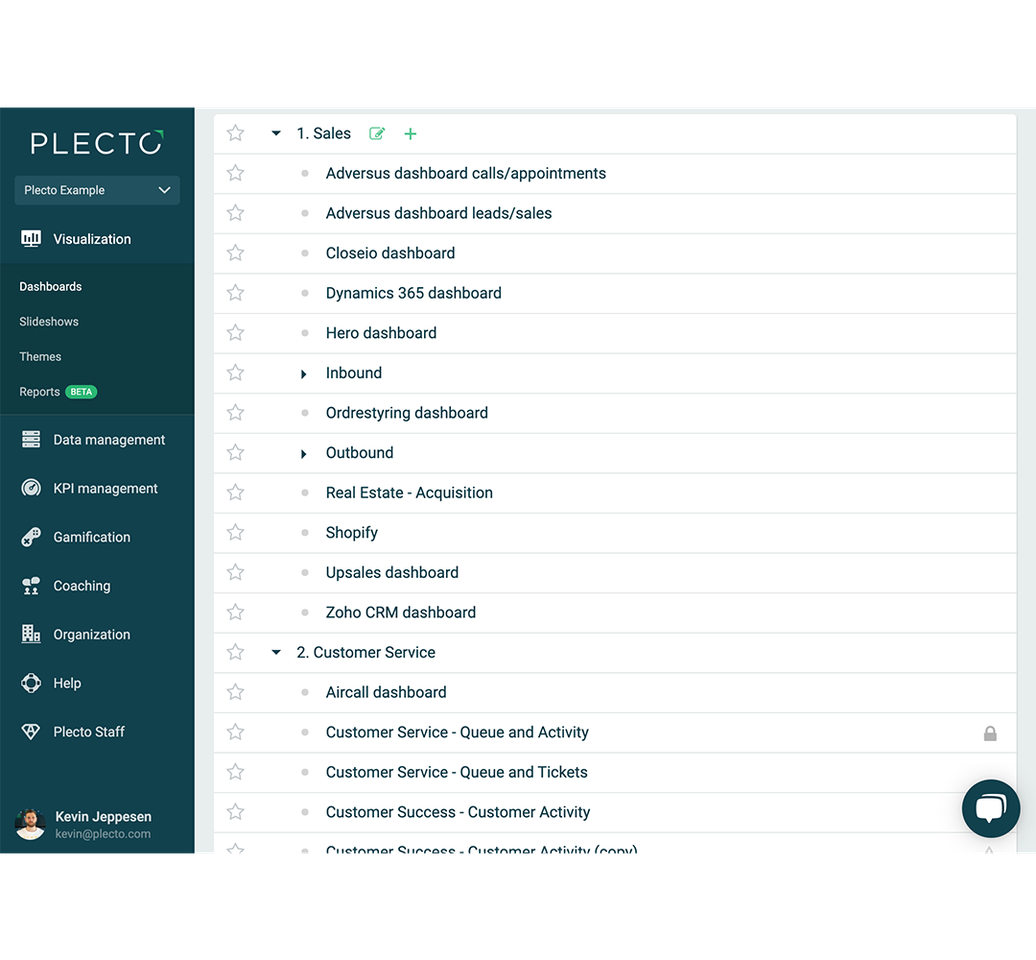 Start your free trial today
Get started in minutes. No credit card required.