Optimize your marketing campaigns in real-time
Monitor your marketing initiatives' performance
Have a full overview of all your marketing campaigns based on the KPIs that you are tracking for them. Follow the progress in real-time and see first-hand which actions are the most successful.
Get the best overview of your pipeline
Optimize your marketing results by comparing campaigns across channels. Get an insight into your social media KPIs, your advertising budget and your marketing initiatives' progress in real-time.
Share the progress with your marketing team
Select the KPIs that you want to display
Provide your marketing team with the best overview of their progress across channels by displaying the relevant KPIs on the dashboard. Funnel, ROI, advertising budget, social media performance... get the best insight in real-time.
Use customised widgets for your dashboard
Visualize your different KPIs with our broad selection of widgets, and engage your marketing team in their progress. See how they change in real-time, and motivate your employees by showing their results in the most visual way.
Visualize your marketing funnel and stay on top of your ROI
Follow and learn from the success of your funnel
Track your entire customer journey from being a potential lead, to converting into a customer. Understand the successful initiatives and adapt your marketing strategy as you go.
Keep an eye on your ROI across all channels
Stay on top of your marketing campaigns by tracking their ROI. Base your decision-making on the most accurate data, and adapt your strategy to the latest results to reach your KPIs. Pipeline Value
Current month
$158,000
Total Leads
Current month
387
Enterprise Leads
Current month
8
New Opportunities
Current month
178
Hit Rate
Current month
32%
"Plecto enables me to see which channels are performning and which channels that are not. This makes it easy for us to adjust our marketing efforts in real time. Now - we are more efficient and motivated."
Get instant feedback from your Sales team
Provide your marketing team with the best insight
Get real-time feedback from your salespeople about the successfully converted leads, the started trials and the demos booked, among other relevant KPIs. Help your team understand the impact of your marketing efforts.
Promote collaboration across departments
By providing your entire team with the most updated data you promote data-driven conversation among departments. Get great learnings for your social media strategy, funnel and advertising, and scale up your marketing efforts.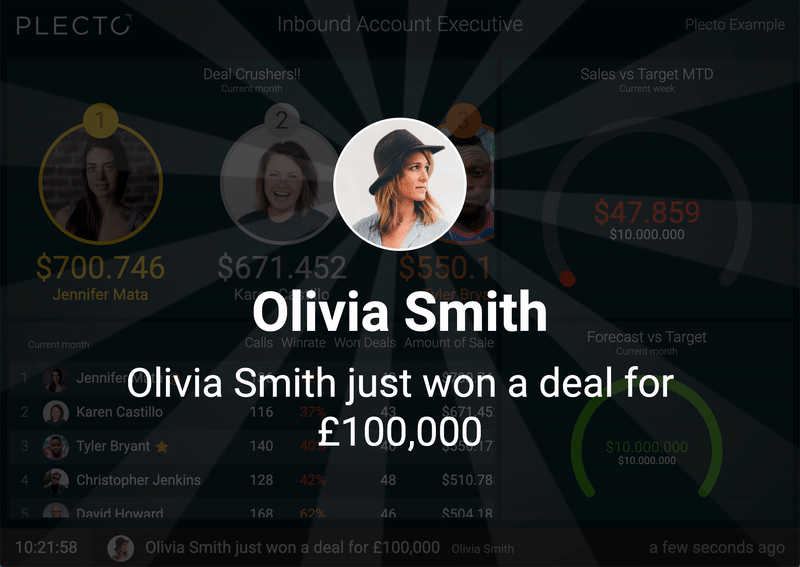 Save time from writing your marketing reports
Create automatic reports in a matter of minutes
Stop spending time reporting when you can have them done in just a couple of clicks. Select the KPIs that you want to show in the report, and filter per location, team or employee - as accurate as you want it to be.
Personalize your marketing reports
Decide whether you want a report per location, team or employee, and receive it done in your inbox in PowerPoint or Excel format. Create the best overview each time in just a few clicks, and share it with your stakeholders.
Import your marketing data into Plecto automatically
Integrate Plecto with your marketing systems
Plecto has +50 integrations with the most used systems across departments, which allows you to import data automatically into your dashboard. Monitor the progress of your KPIs at just at glance, and Plecto does the rest.
Display real-time data, 24/7
Select the type of data that you want your marketing team to monitor. Choose the integration that works best for you, connect with your Excel sheets or enter the data manually into Plecto - and get the best overview of your performance.
How it works
1. Connect your data sources
One-click real-time integration with our dashboards to the most popular CRM, support and other business systems.
See our integrations
2. Build dashboards
Use our prebuilt KPI dashboards or customize your own by using formulas to calculate more advanced metrics.
Learn more about our dashboards
3. Boost team performance
Share real-time insights with your team and boost performance by 20% with visualizing data on dashboards.
Read our customer stories
Explore Plecto's features
Real-time Dashboards
Visualize KPIs on TVs around the office.
Instant Notifications
Recognize and celebrate success as it happens.
Contests
Set up contests across any KPI in a matter of seconds.
Real-time Reports
Save time with real-time reports in Plecto.
Performance Agreements
Set targets for each employee and follow progress in real-time.
Achievements
Challenge top performers with records and special awards.
Start your free trial today
Get started in minutes. No credit card required.