Optimize campaigns in real-time
Monitor how specific campaigns are performing
Get the full overview over which campaigns that have proven to be the most successful based on the KPIs you want to track.
Understand the pipeline created
Look into each campaign and compare it to all other campaigns across channels to optimize for the best results.
Visualize your funnel
Follow and understand the success of your funnel
Track the whole journey from the first time a potential prospect clicks the first ad to converting into a customer.
Real-time ROI across all channels
Be able to instantly know if your campaigns are providing the best ROI. Discover whether you should cut spend or invest more in certain campaigns. Pipeline Value
Current month
$158,000
Total Leads
Current month
387
Enterprise Leads
Current month
8
New Opportunities
Current month
178
Hit Rate
Current month
32%
Get instant feedback from sales
Get real-time insights about leads successfully converted and closed by the sales team. Understand the impact marketing has on the sales performance as it happens.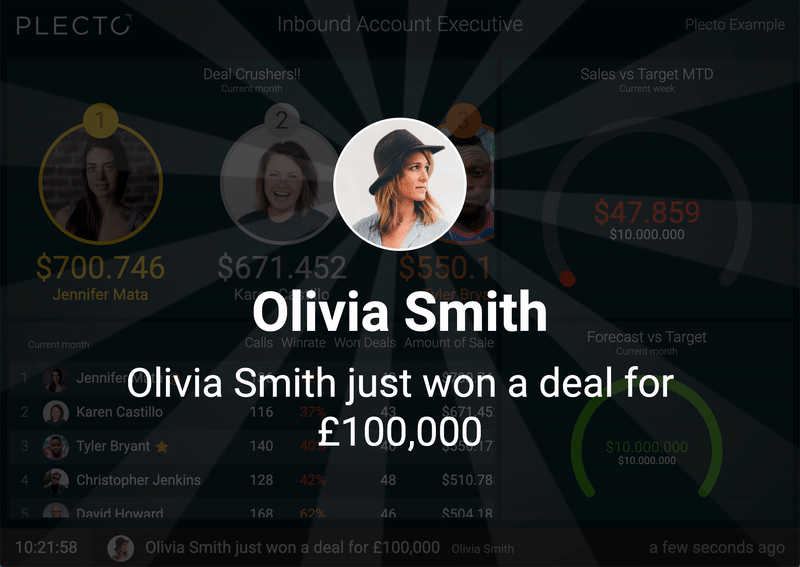 "Plecto enables me to see which channels are performning and which channels that are not. This makes it easy for us to adjust our marketing efforts in real time. Now - we are more efficient and motivated."
How it works
1. Connect your data sources
One-click real-time integration with the most popular CRM, support, marketing and other business systems.
See our integrations
Explore Plecto's features
Real-time Dashboards
Visualize KPIs on TVs around the office.
Instant Notifications
Recognize and celebrate success as it happens.
Contests
Set up contests across any KPI in a matter of seconds.
Real-time Reports
Save time with real-time reports in Plecto.
Performance Agreements
Set targets for each employee and follow progress in real-time.
Achievements
Challenge top performers with records and special awards.
Start your free trial today
Get started in minutes. No credit card required.