Number of Leads Created
Potential customers that have shown some interest in your company or product.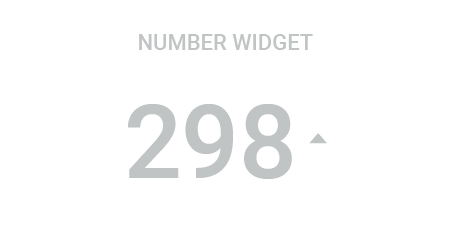 What is Number of Leads Created?
This is one important KPI since it will also give you an estimation of your next future clients. Therefore, if this KPI is very low, it will probably mean that you won't be welcoming many new clients in the near future.

However, a high number of leads does not necessarily imply that you'll be getting a lot of customers either. It's the sales team the one responsible for determining the quality of these leads, and whether they are qualified as an opportunity and potential client or not. For example, a new lead can be a student that has subscribed to your free trial but won't turn into a client because it's just a testing purpose.

Overall, this number gives you a better insight on how attractive your business is, but you should rely more on the number of qualified leads. After all, these are the ones that might turn into clients and bring you some revenue at the end of the month.
Pre-built widgets to display Number of Leads Created
How to calculate Number of Leads Created?
(
    Count(New Lead)
)
Supported integrations

Salesforce

Zoho CRM
Enreach

Adversus
How it works
1. Connect your data sources
One-click real-time integration with our dashboards to the most popular CRM, support and other business systems.
See our integrations
2. Build dashboards
Use our prebuilt KPI dashboards or customize your own by using formulas to calculate more advanced metrics.
Learn more about our dashboards
3. Boost team performance
Share real-time insights with your team and boost performance by 20% with visualizing data on dashboards.
Read our customer stories
Boost performance with real-time insights
Plecto is a data visualization software that helps you motivate your employees to reach new limits and stay on top of your business.

Start 14-day free trial Book demo
Get started in minutes. No credit card required.