Gamification has gained popularity in various industries, especially Software-as-a-Service (SaaS). This shouldn't come as a surprise, considering that proper use of gamification can lead to a 7x increase in conversions.
SaaS companies can leverage game mechanics such as leaderboards, rewards, or badges to engage users, motivate behavior, and drive desired outcomes. But gamification is more than just turning your software into a Jenga game.
Let's take a closer look at 10 successful examples of gamification in B2B SaaS. These techniques are effective in enhancing user engagement and fostering customer loyalty.
---
1. Plecto's gamification for sales and support agents
The first example of gamification for SaaS comes from Plecto, a business performance platform. Plecto's gamification features include instant notifications, fun contests, and a Reward Store where employees earn virtual coins that can be redeemed for real-world rewards. Here, gamification is used not only to boost the motivation of employees but also to inject elements of fun into everyday tasks. Overall, this results in an office environment where employees are engaged and driven to perform their best.
This helps foster a culture of healthy competition between team members. Plecto is unique because it also incorporates team-based gamification techniques. These include team contests around the metrics they need to crush.
Start your free trial today
Get started in minutes. No credit card required.
2. Oracle's "Cloud Stacker" game
Oracle published the game "Cloud Stacker" to promote its cloud solutions. The game involves stacking cloud blocks in a certain way while also learning about Oracle's cloud solutions.
In essence, Oracle uses Cloud Stacker to explain complex cloud technology concepts to their users.
The game isn't very complicated, but it compels you to attempt stacking everything correctly. It also promises to help you build your cloud stack in 20 seconds.
After a few attempts, you start remembering each stack layer. The game ends with a CTA to join an event and use the hashtag #CloudZumAnfassen, which translates into "to touch the cloud."
According to Gamewheel, the Facebook campaign resulted in an average 85% click-through rate, with users spending three times more time with Oracle advertising than before.
3. HubSpot's grader tools and certifications program
The second example of gamification for B2B SaaS is HubSpot. The popular marketing, support, and sales software provider has created a variety of free grader tools and quizzes to improve engagement with leads.
For example, the "Make My Persona" tool allows users to generate a buyer persona for their company by completing seven easy steps. The process is reminiscent of the character creation menu of video games. It turns a complicated and tedious activity into something fun.
In return for providing a buyer persona template, HubSpot requests information such as an email address and company stats.
HubSpot also offers certifications and badges to users who complete their certification programs, which they can download, embed in their websites, and share on social media platforms.
These badges and certifications encourage users to actively engage with HubSpot's content by granting them recognition for their expertise.
4. Touchpoint's customer support module
Touchpoint is a customer communication platform that uses individual and team goals to track performance, offering incentives for each completed milestone.
The software also offers personalized onboarding experiences. Each new user has a series of tasks to complete before onboarding. As a result, the dashboard is customized according to their needs.
Long-term, and by tracking the right onboarding success metrics, gamification leads to better product adoption and shorter trial-to-paid duration.
5. SAP's community mission badges
Like Hubspot, SAP also uses community badges to reward active community members. To earn community badges, its members must complete various missions, such as answering questions, sharing insights, and contributing to discussions.
Members proudly display these achievements and badges on their profiles, showcasing their contributions and expertise. This gamification technique fosters community, encourages knowledge sharing, and incentivizes active participation in SAP's forum.
6. ShortStack's themed scavenger hunt
A unique example of gamification for B2B comes from ShortStack, a social media marketing platform. The company used gamification in its marketing strategy through a themed scavenger hunt campaign.
ShortStack hosted an "Elf on the Shelf" themed scavenger hunt during the holiday season to raise awareness of their new features and engage users in a fun and interactive way.
During the hunt, users had to find hidden elves on the ShortStack website and social media channels. They found clues, participated in challenges to earn points, and discovered how the new features worked during the game.
This gamification strategy is beneficial for new product launches or feature updates because it excites people to discover secrets others missed.
Users were incentivized to complete the scavenger hunt by offering rewards, such as service discounts, for successful participation.
If you plan on trying this, here are some critical points from SubStack's guide on achieving success:
Create separate landing pages with unique UTMs and dedicated entry forms for each item in the scavenger hunt.
Create rules and flows to ensure users go through every step of the hunt at the right time.
Offer instant rewards for users to keep them engaged and interested.
Set clear expectations from the start.
7. Hootsuite's knowledge quiz
Hootsuite, a popular social media management platform, created a knowledge quiz based on its annual social media trends report.
Users were incentivized to read the report and take the quiz by offering rewards such as discounts on Hootsuite's social media tools.
This gamification technique encouraged users to educate themselves about the latest trends and generated leads for Hootsuite's product promotion.
Hootsuite also has another quiz which you can find on their website's main navigation panel. This panel displays a quiz on which fictional brand you would work with as a social media manager.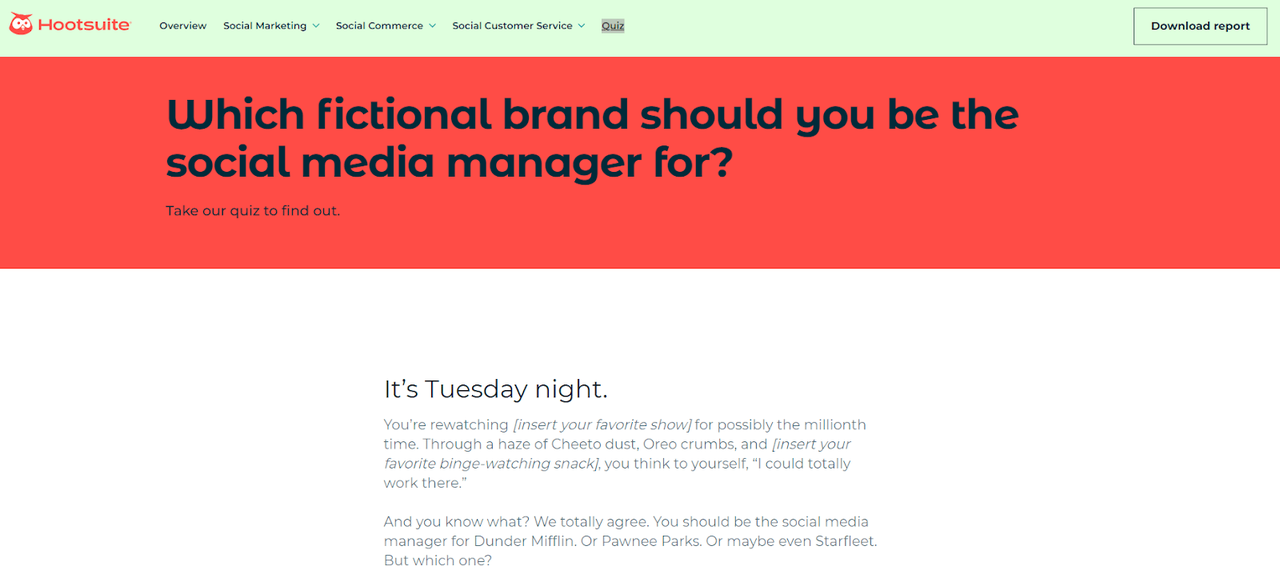 8. Asana's task completion celebration
A little unicorn prances on the screen whenever you complete a task in Asana. Though it might seem minor, it creates a sense of accomplishment and motivation to start the next task.
Asana uses a visually appealing interface with task lists, progress bars, and notifications to create a game-like user experience.
Asana also employs a leveling-up system, where users can earn points and badges or unlock new features as they complete more tasks or reach higher productivity levels.
Similarly to Touchpoint, Asana incorporates social elements, such as team leaderboards and collaborative features, that encourage users to work together, compete, and support each other.
This fosters community and friendly competition among team members, increasing engagement and motivation to complete tasks.
9. Prodpad's rewards for in-app actions
Prodpad is a productivity app for note-taking and task management, and my favorite example of B2B gamification in the list. The software uses gamification techniques to encourage users to take action within the app. Prodpad incorporates game-like elements to motivate users to engage with the app and complete tasks.
Prodpad's gamification technique uses progress bars that visually represent the completion status of a task or goal. As users progress towards completing a task, the progress bar fills up, providing a sense of accomplishment and motivation to continue.
Prodpad also utilizes achievements and rewards to incentivize users to engage with the app. When users complete a certain number of tasks, achieve a streak of consecutive days of productivity, or reach a milestone, they earn badges or rewards. These achievements and rewards are similar to the ones we see on Reddit and in Asana.
The tool also uses gamification techniques like timed challenges or races to create a sense of urgency and competition. This motivates users to take action quickly, complete tasks efficiently, and outperform others, increasing engagement and productivity.
None of these concepts are ground-breaking, but in Prodpad's case, the implementation is unique and user-friendly.
Remember, the effectiveness of gamification isn't strictly based on recreating the techniques themselves. Instead, it depends on how well you implement the techniques to make the experience engaging and wholesome for users.
Conclusion
Gamification doesn't just boost user experience. It improves your company's image and increases how frequently users interact with your product. Let's quickly recap our favorite examples of gamification from successful B2B SaaS companies:
Oracle's "Cloud Stacker" game
Hubspot's grader tools and certifications program
Touchpoint's customer support module
SAP's community mission badges
ShortStack's themed scavenger hunt
Hootsuite's knowledge quiz
Asana's task completion celebration
Prodpad's rewards for in-app actions
Freshdesk's gamification for sales agents
Frankly, gamification is one of the best ways to build user engagement in B2B SaaS and drive positive business outcomes. It provides a means to immerse your users in your product's functions so they can understand how it works.
As a B2B SaaS company, investing in gamification is a surefire way to bolster your success. And with Plecto, you can explore and implement working gamification strategies that suit your team best.