Create a cross-functional overview in real-time
Integrate your SaaS data into Plecto automatically
Plecto has +50 integrations with the SaaS systems used across-departments. Select the data that you want to import into the dashboard automatically, and track the metrics that showcase the health of your business.
Combine data from different systems in one place
Get the best overview of your key activities and vital insights by having your relevant data in the same place. Tailor the dashboard to your business' needs, and follow it in real-time.
Identify your SaaS company's growth-levers
Share key data and KPIs with your stakeholders
Plecto dashboards make it easier than ever to share your key information with your stakeholders inside and outside the organization. Enable them to follow your growth with intuitive insights into your historical and real-time data.
Department-centric dashboards for a complete overview
Create a dashboard per department for a complete overview of your team's key performance data. It helps promote cooperation across-departments and stay on top of the changes and opportunities in the market.
Empower your team with unique gamification options
Motivate your employees with instant recognition
Promote a transparent culture by displaying your employees' achievements. Badges, leaderboards, personalized notifications… Options are endless to increase your team's engagement!
Stay on top of your SaaS KPIs with personalized widgets
Make your organization more cohesive to your employees by displaying the relevant KPIs for the entire team. Enhance the high-performance benefits by showing your employee's progress with personalized widgets.
Keep your stakeholders informed with automatic SaaS reports
Create relevant reports in a matter of minutes
Empower your decision-making based on the latest data! Select the KPIs that you want to report to your different stakeholders, and create the report automatically in just a few clicks. Receive it done in your email, in PowerPoint or Excel format.
Generate SaaS customer-centric reports for your meetings
Use Plecto's predictive data to focus your reports on the customers' ecosystem. Easily explain your performance and accelerate success by bringing relevant reports to your meetings.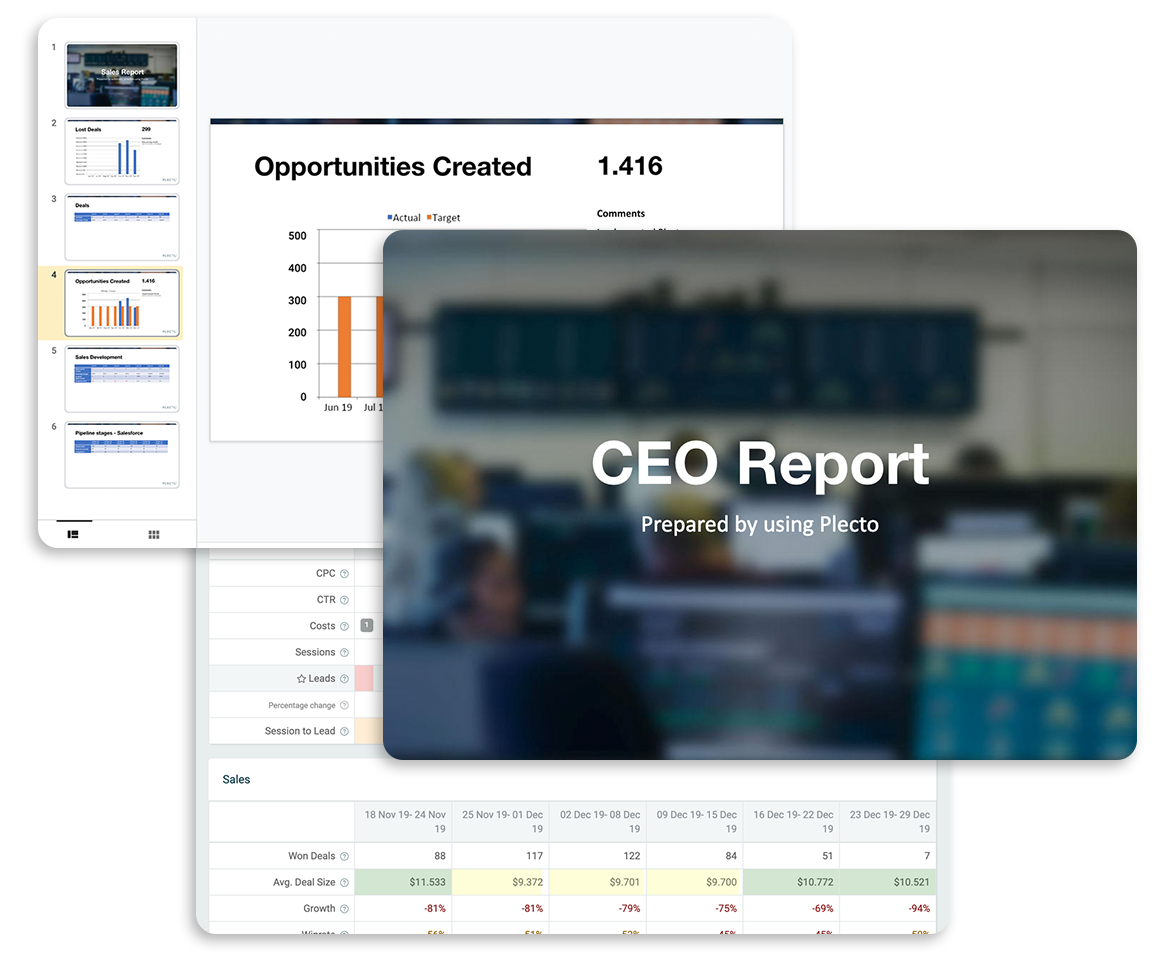 Increase your team's motivation with friendly competition
Create fun contests across-locations
Select the KPI that you want to boost in a specific department, and easily create a fun contest for them. Promote cooperation among colleagues and enhance a data-driven SaaS culture.
Follow your team's progress in real-time
Display the contest on your dashboards and involve all your departments in the performance. A friendly competition vibe will keep your team motivated and ready to succeed!
How it works
1. Connect your data sources
One-click real-time integration with our dashboards to the most popular CRM, support and other business systems.
See our integrations
2. Build dashboards
Use our prebuilt KPI dashboards or customize your own by using formulas to calculate more advanced metrics.
Learn more about our dashboards
3. Boost team performance
Share real-time insights with your team and boost performance by 20% with visualizing data on dashboards.
Read our customer stories
Explore Plecto's features
Real-time Dashboards
Visualize KPIs on TVs around the office.
Instant Notifications
Recognize and celebrate success as it happens.
Contests
Set up contests across any KPI in a matter of seconds.
Real-time Reports
Save time with real-time reports in Plecto.
Performance Agreements
Set targets for each employee and follow progress in real-time.
Achievements
Challenge top performers with records and special awards.
Start your free trial today
Get started in minutes. No credit card required.