Real-time visualization of your KPI's
Stay on top of your pipeline
Let your team stay on top of their pipeline by focusing on key-deals and replace gut-feeling with real data.  
Get real-time updates on the road
Stay in touch with real-time updates of your team's performance, even when you are away from the office.
Instant recognition
Celebrate individual and team achievements in real-time
Make notifications appear on your slideshows for the team to celebrate successes instantly as they happen. 
Learn more about Instant Notifications
Recognize top performers 
Recognize and highlight top-performers for their achievements while they keep doing what they are best at: top performance!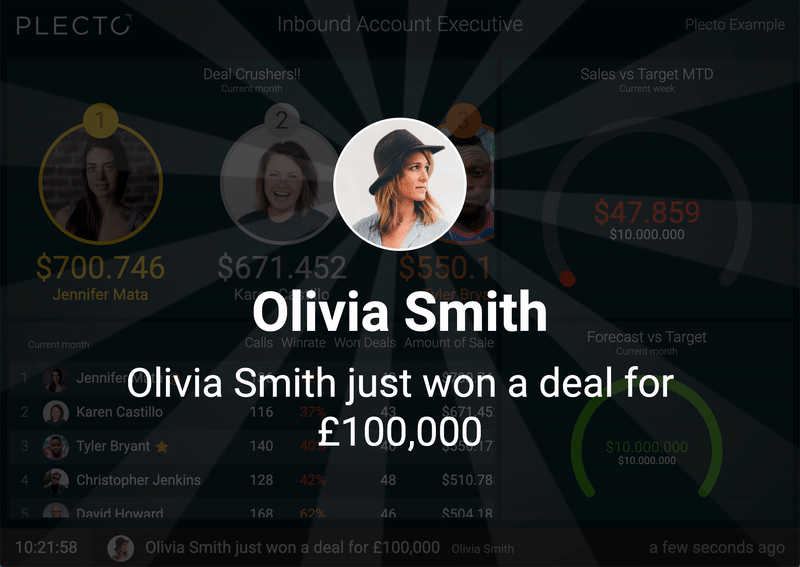 "I can recommend this software to anyone working with sales. It has helped our team reach our Goals by simply displaying sales for day to day. This is making the internal competition better by visualising the performance live."
Performance-driven culture
Create sales contests 
Create a friendly competitive atmosphere at the office with sales contests. Say goodbye to whiteboards.
Run sales contests with Plecto
Set individual and team targets 
Set individual targets for each employee that aligns with the overall company goals and follow the progress in real-time
Predictable Revenue
Forecasts based on previous behavior
Make your forecasts predictable in Plecto using the historical performance of your sales reps to intelligently show how the performance will turn out in the future.
Make real-time decisions based on the forecast predicting whether the team will reach their target or not. 
How it works
1. Connect your data sources
One-click real-time integration with our dashboards to the most popular CRM, support and other business systems.
See our integrations
2. Build dashboards
Use our prebuilt KPI dashboards or customize your own by using formulas to calculate more advanced metrics.
Learn more about our dashboards
3. Boost team performance
Share real-time insights with your team and boost performance by 20% with visualizing data on dashboards.
Read our customer stories
Explore Plecto's features
Real-time Dashboards
Visualize KPIs on TVs around the office.
Instant Notifications
Recognize and celebrate success as it happens.
Contests
Set up contests across any KPI in a matter of seconds.
Real-time Reports
Save time with real-time reports in Plecto.
Performance Agreements
Set targets for each employee and follow progress in real-time.
Achievements
Challenge top performers with records and special awards.
Start your free trial today
Get started in minutes. No credit card required.