Increase your employees' engagement with the business
Motivate your team to do better
Plecto offers unique gamification options that you can personalise to increase your team's motivation daily. Real-time notifications, contests, achievements badges, and many more options that you can set to appear in your dashboard. Keep the motivation flowing in your team!
Engage your employees in their performance
Enterprises can now walk the extra mile with employees to increase their engagement with the business' performance and goals. Use ou personalised widgets to show your employees their most relevant KPIs and objectives, together with their real-time progress.
Discover our gamification options also for enterprise businesses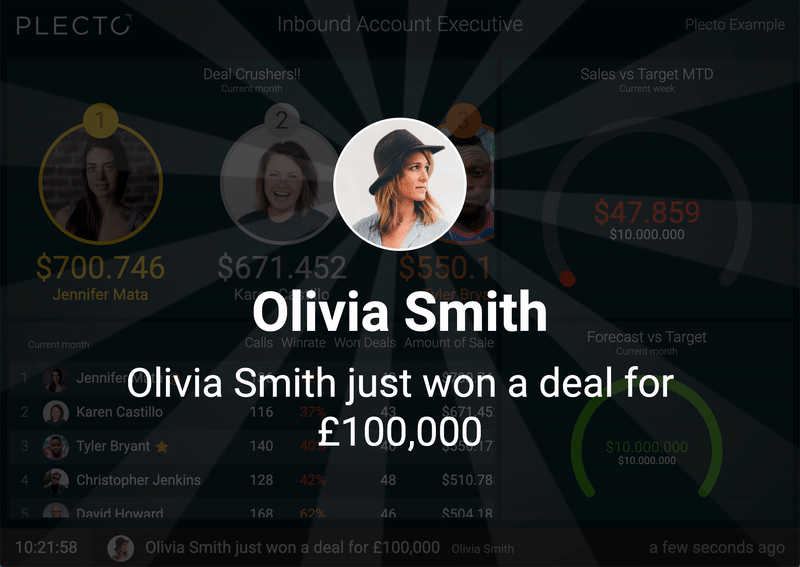 Get an overview of your employees' performance across locations and teams
Improve your team's performance by 20%
Boost your employees motivation to perform better by displaying the most relevant KPIs and progress across locations. Availability, average time on a call, number of deals closed.... The options are endless to give your employees the best overview of their performance.
Promote collaboration across departments 
Allow your employees to take credit for their goals and own their successes. Get your departments together and promote teamwork across departments by establishing common KPIs, and displaying the progress in real-time for the entire enterprise. Make it fun to be at work!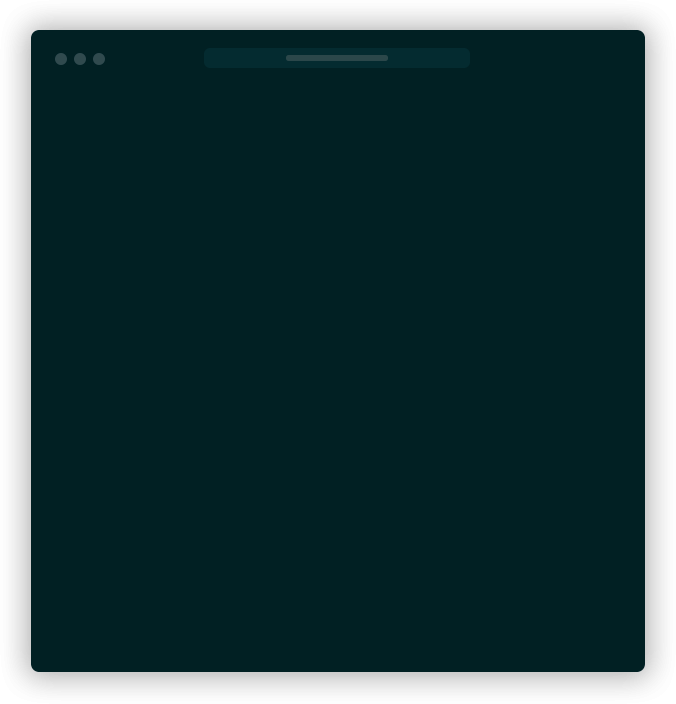 Pipeline Value
Current month
$158,000
Total Leads
Current month
387
Enterprise Leads
Current month
8
New Opportunities
Current month
178
Hit Rate
Current month
32%
"When we build up the team, we reached out to approximately 2.000 customers a month, and now we reach out to around 3.000 every month. This helps us reduce churn, and Plecto has definitely been a part of that journey."

Learn more about how Nets uses Plecto
Combine data from all your systems across departments
Make data-driven decisions for your Enterprise
Promote data-driven conversations among your team by displaying the real-time progress towards the different KPIs. Bring the most updated data to your decision-making meetings and create a data-driven culture for your enterprise.
Combine insightful data from your usual sources
With our +50 integrations, you can combine the various systems used across departments in your enterprise, and import data automatically into Plecto dashboards. Use our pre-defined formulas or create more advanced ones to get the best insight into your team's KPIs and performance.
Find the integrations to your most used systems across teams
Stay on top of your budgets across projects and departments
Get the latest updates on your budgets
Set alerts to trigger whenever a certain budget goes above a certain threshold to act fast on it. Take full control of your budgets by receiving instant notifications when something changes. Moreover, you can always access Plecto through your laptop, tablet, smartphone, and Apple Watch. Be informed 24/7, whenever and wherever.
Create real-time reports for the entire corporation
Save time from reporting
Create real-time reports automatically with the KPIs that you are already displaying on your dashboards. Combine the most relevant data from all your systems in one report, or create different reports for your various stakeholders.
Receive your reports done in no time
In a matter of seconds, you can receive your reports in your inbox in PowerPoint or Excel format, with the frequency that you decide. Easy and quick, just like reporting should be. 
How it works
1. Connect your data sources
One-click real-time integration with our dashboards to the most popular CRM, support and other business systems.
See our integrations
2. Build dashboards
Use our prebuilt KPI dashboards or customize your own by using formulas to calculate more advanced metrics.
Learn more about our dashboards
3. Boost team performance
Share real-time insights with your team and boost performance by 20% with visualizing data on dashboards.
Read our customer stories
Explore Plecto's features
Real-time Dashboards
Visualize KPIs on TVs around the office.
Instant Notifications
Recognize and celebrate success as it happens.
Contests
Set up contests across any KPI in a matter of seconds.
Real-time Reports
Save time with real-time reports in Plecto.
Performance Agreements
Set targets for each employee and follow progress in real-time.
Achievements
Challenge top performers with records and special awards.
Start your free trial today
Get started in minutes. No credit card required.