Number of Received Ratings
Count of every time a user has written about your company online.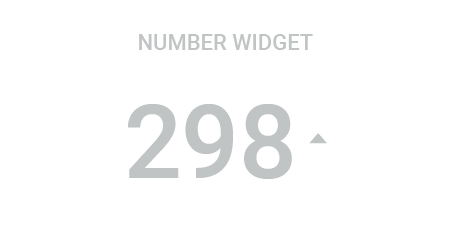 What is Number of Received Ratings?
It's a count of the times you've been mentioned online by a user. It can be a comment or rating about your company, your product or your employees' treatment, for instance. It's positive for a company to create and follow conversations online, in order to have a more interactive relationship with its users. However, it can also be counterproductive if the company is mostly receiving negative reviews, because that will probably set some barriers from growing.

Overall, this KPI will give you a real-time overview of the total number of ratings that you are accumulating online.
Pre-built widgets to display Number of Received Ratings
How to calculate Number of Received Ratings?
(
    Count(Received Rating).Date(Created Date)
)
How it works
1. Connect your data sources
One-click real-time integration with our dashboards to the most popular CRM, support and other business systems.
See our integrations
2. Build dashboards
Use our prebuilt KPI dashboards or customize your own by using formulas to calculate more advanced metrics.
Learn more about our dashboards
3. Boost team performance
Share real-time insights with your team and boost performance by 20% with visualizing data on dashboards.
Read our customer stories
Boost performance with real-time insights
Plecto is a data visualization software that helps you motivate your employees to reach new limits and stay on top of your business.

Start 14-day free trial Book demo
Get started in minutes. No credit card required.