Insights that bring value to your business
View details about every single sale
Track your most important KPIs such as the items per sale, average order size, or even where your customers come from. 
"The effects show immediately and gives a better transparency to all employees, raising their motivation and desire to do good for the sake of the team and the company. Plecto has definitely helped us improve performance."
Anders Eiler
CSO at team.blue
Use with other departments
Combine data from marketing and sales
Use our marketing integrations with your sales data to calculate your most important KPIs such as CPA, CAC, conversion rates, total revenue and much more.
Real-time visualization of your sales
Compare sales across web shops
With Plecto you can combine sales data from all of your webshops onto a single dashboard. You can also create a dashboard for each webshop - everything is customizable.
Watch sales as they happen
Stay on top of your sales and watch sales being made in real-time while tracking your most important KPIs.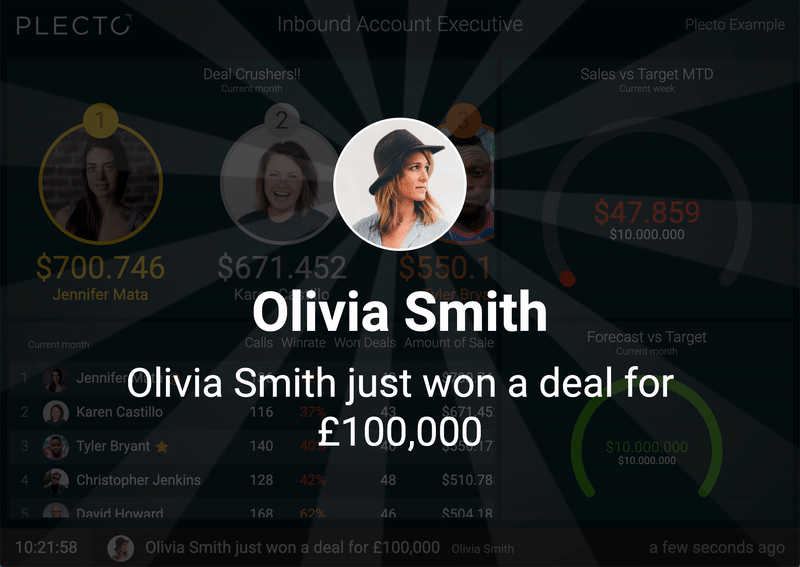 How it works
1. Connect your data sources
One-click real-time integration with the most popular CRM, support, marketing and other business systems.
2. Build dashboards
Use our prebuilt KPIs or customize your own by using formulas to calculate more advanced metrics.
3. Boost team performance
Share real-time insights with your team and boost performance by 20%.
Explore Plecto's features
Real-time Dashboards
Visualize KPIs on TVs around the office.
Instant Notifications
Recognize and celebrate success as it happens.
Contests
Set up contests across any KPI in a matter of seconds.
Real-time Reports
Save time with real-time reports in Plecto.
Performance Agreements
Set targets for each employee and follow progress in real-time.
Achievements
Challenge top performers with records and special awards.
Start your free trial today
Get started in minutes. No credit card required.