Looking for ways to boost your organization's performance in 2023? Whether you're leading a small team or managing an entire company, there are always ways to improve productivity and efficiency. In this blog post, we'll guide you through 7 steps that will help boost your organization's performance and drive growth.
---
Steps to Improve Your Organization's Performance
These steps act as the roadmap for boosting your organization's performance.
1. Set Clear Goals
Start by defining specific, measurable, achievable, relevant, and time-bound (SMART) goals for your organization.
For instance, a SMART goal could be to "boost monthly sales revenue from baseline to 15% between June 2023 and December 2023."
Shared goals will also align employees' efforts, ensuring they are all working in harmony toward a common objective, ultimately improving your organization's performance.
Be sure to consider the available resources, budget, technology, capabilities, and constraints of your organization when setting goals.
2. Develop KPIs to Track Progress
To track your progress, you will also need to establish certain metrics or indicators.
For this, identify the key performance indicators (KPIs) for your organization relevant to your goal.
KPIs are measurable values that indicate how effectively an organization is achieving its objectives and goals. More importantly, they create a sense of accountability among employees.
Clear KPIs also serve as motivators, as they provide employees with a tangible sense of progress and accomplishment when goals are met, fostering a performance-driven culture.
For instance, the finance team's KPIs can look like this:
Of course, you will also need to set individual KPIs for each team member across departments for better accountability, but setting overall KPIs helps too.
3. Make Strategic Technology Investments
Investing in the right technology and tools can boost your company's productivity and give it a distinct competitive advantage.
The right tech stack can help you deliver better products and services, provide a superior customer experience, and achieve better financial results than your competitors.
And guess what?
It's no surprise that 70% of businesses are looking to increase their investment in technology to boost productivity and efficiency, according to a Gartner study.
So, just what should be the composition of your tech stack?
If we were to go by the recent trends highlighted in a study conducted by Ernst & Young (EY), these are the top strategic technologies that will drive the desired outcomes for businesses in 2023:
While the tools you need to invest in depend on the size and nature of your business, some of the tools every business needs include:
Customer relationship management: It is possible to find free CRM tools that help streamline customer service and improve customer satisfaction.
Business performance: Your employees are the lifeblood of your organization, and ensuring that they are engaged in what they do is crucial to successful business operations. That is why in this day and age, investing in a business performance platform is a must. Plecto boosts your organization's performance through a unique combination of KPI visualization, gamification and coaching.
Project Management (e.g., Trello, Asana): Optimize task management, collaboration, and project tracking for improved productivity.
Communication and collaboration (e.g., Slack, Microsoft Teams): Facilitate seamless communication, remote work, and teamwork across teams and departments.
Marketing: It is also important to invest in SEO, email marketing, social media marketing, and outbound prospecting tools.To boost your prospect list, you can get lead-generation tools like those listed by Attrock.
Automation Software: Automate repetitive tasks, streamline workflows, and improve operational efficiency. For instance, you could use email automation tools to send out drip emails.
4. Hire the Right People
The individuals you bring into your organization have a significant impact on its success, culture, and productivity.
By investing time and effort in the recruitment process and selecting individuals who align with your organization's goals and values, you set the stage for sustained growth and success.
The right individuals have a higher level of engagement, motivation, and commitment in addition to valuable knowledge and experience.
Above all, the willingness to go the extra mile to achieve results leads to increased productivity and better team performance.
In fact, the top performers are 800% more productive compared to average performers, according to a McKinsey study.
5. Build Capabilities
In addition to investing in the right tools and people, organizations need to build institutional capabilities to consistently outperform their competitors and achieve their goals.
95% of respondents in the above-cited McKinsey study said their organizations do not have the capabilities required to boost performance.
Building institutional capabilities is all about integrating technology, people, and processes.
When all elements are working together effectively, organizations can deliver better products and services, provide an improved customer experience, and achieve superior financial results than their competitors.
6. Invest in Employee Development
Whether you want to boost organizational performance, attract, or retain top talent, providing ongoing coaching and training opportunities for your employees will help you with these goals.
Why?
For starters, 50% of skill sets for jobs are predicted to change by 2027, according to LinkedIn's 2023 Workplace Learning Report.
And, as per the study, employees are looking for workplaces that help them learn new skills and foster career growth as you can see from this image:
Given that employee retention is the top concern for 93% of organizations, supporting your employees' growth and skill enhancement is the key to boosting individual and team performance.
A blended approach that combines online learning with instructor-led classrooms is a commonly used tactic to upskill your remote and hybrid employees. You could also create and edit training videos using right video editing software to provide on-demand courses to your employees.
You can also make learning more engaging and fun by regularly getting employees to take part in quizzes. Functioning as an effective way to boost knowledge-sharing within the company, quizzes make learning less of a drag.
7. Focus on Employee Engagement
Focusing on employee engagement is crucial for boosting organizational performance because engaged employees are more committed, productive, and motivated to contribute their best efforts to the success of the organization.
Here are some ways to boost employee engagement:
Introduce gamification: Sparking the competitive spirit within your team through contests, notifications and even a spinning wheel all help to amp up the fun factor at the workplace. This is especially important for sales and customer service teams where team spirit can quickly dive with multiple rejections or customer feedback.
With gamification tools like Plecto's, you can motivate your team to perform better. But what is also important is making sure that employees are rewarded for their top performance. For instance, with the Reward Store, employees get to choose which prizes they can redeem.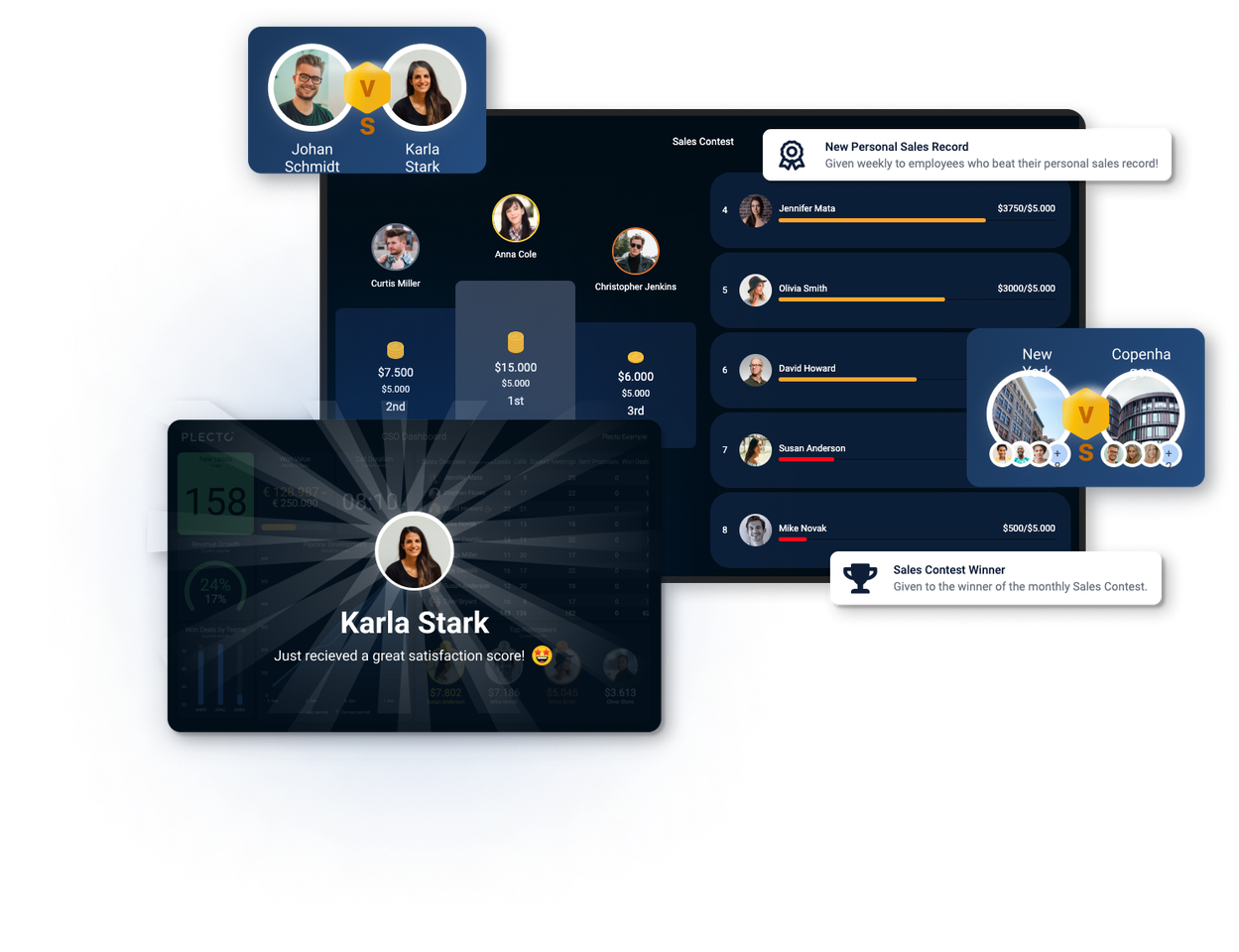 Offer flexible work arrangements: Per a Gallup study, 60% of employees say they will start looking for another job if their current employer does not offer the flexibility of remote work.
Final Thoughts
Improving organizational performance is not exactly a cakewalk, but if you follow the tips in this article, you'll have a much better chance of success.
By setting relevant goals, focusing on employee engagement and motivation, and taking advantage of available technology to its fullest extent, you can make meaningful strides in improving your organization's overall performance.
---

Reena Aggarwal is Director of Operations and Sales at Attrock, a result-driven digital marketing company. With 10+ years of sales and operations experience in the field of e-commerce and digital marketing, she is quite an industry expert. She is a people person and considers the human resources as the most valuable asset of a company.