Visualize your real-time progress with accurate metrics
Choose the KPIs that best fit your startup
As a startup, you often have a specific set of KPIs you want to focus on, to measure your growth in the different areas of a business.
Create customized dashboards for your startup
You can create as many dashboards as you need - whether it is for your teams, investors, or for yourself. That way, you can always make sure everybody is up to speed and aligned with the numbers and performance. Involve everybody and give them the best overview of your startup
Stay on top of your budgets with real-time alerts
Take care of your performance in real-time
Set alerts to trigger whenever a budget is about to pass or when you have reached an important milestone.
This allows you, your colleagues, and investors to be aware of any significant changes in your business. Start making more data-driven decisions today
Stay updated on your budgets' progress
Visualize the real-time status of your ROI and most important metrics, and get notified whenever something changes. As a startup CEO, we know you have a lot on your plate, so why not automate the process of staying on target and make sure everybody is aligned?
Create reports automatically in a few clicks
Automate the reporting process
It's both time-consuming and boring to do reports, and we know you're creating a lot of those; for current and potential investors, colleagues, yourself…

Creating slides and sharing performance overviews are a big part of running a startup. Let us help you out with that! With our reports feature you can automate your report creation, and easily share your numbers in a visual way. What used to take you hours, can now be done in a matter of seconds. You're welcome.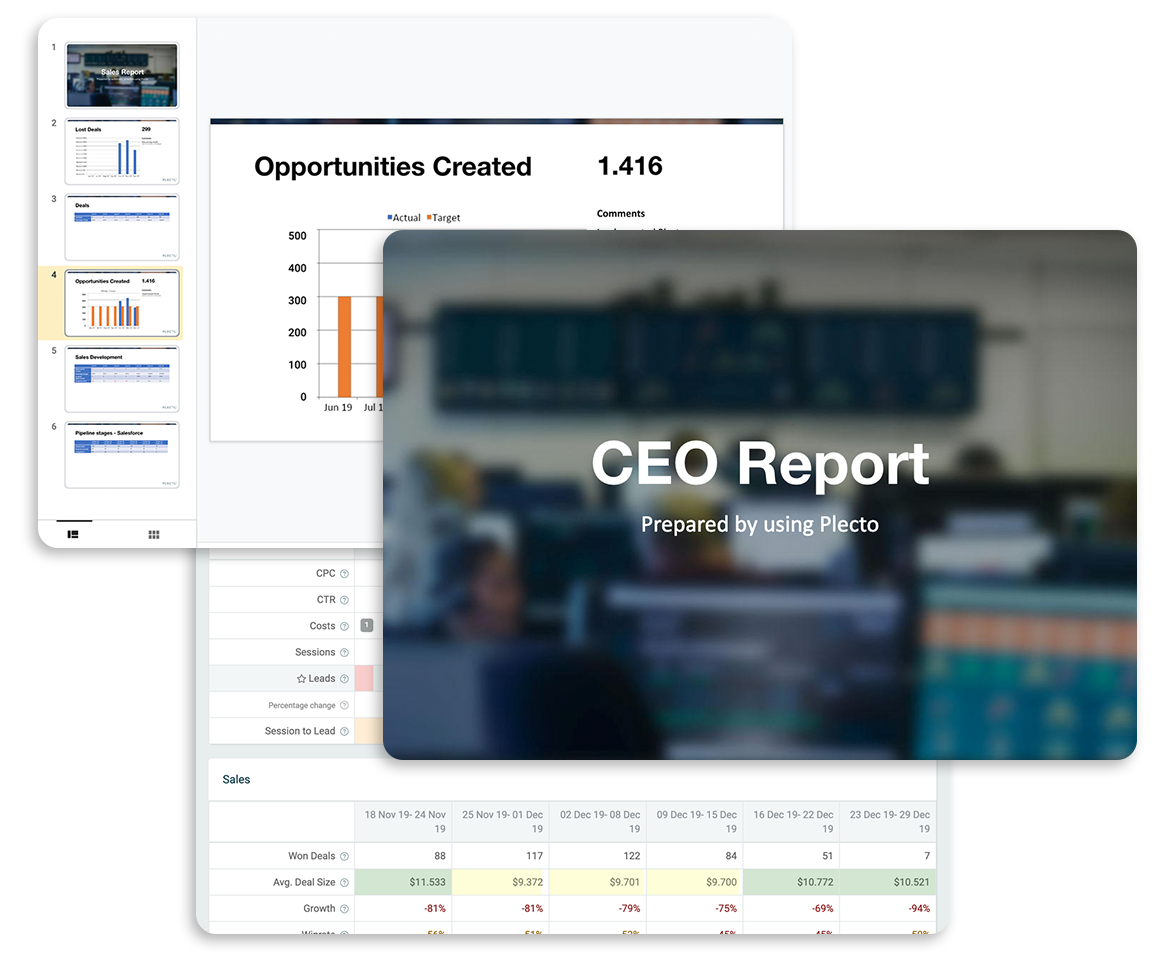 Visualize the most relevant KPIs for your startup
Select the KPIs that you want to track
You can get the best overview of your startup by displaying the relevant KPIs for your business. Get an insight into your relevant metrics, and understand your performance.
Customize your dashboard for your startup
Customize the widgets to display your KPIs in the most visual and engaging way. Incorporate data into your daily routine by making it entertaining to look at. Following your startup's progress has never been so easy!
Integrate Plecto with your usual systems
Import data automatically into your dashboard
Plecto counts with +50 integrations to the most-used systems across-departments. This allows you to easily import data into your dashboard and monitor your progress.
Display all your KPIs in real-time
Choose the KPIs that you want to display on your dashboard through the integration with your systems. You can also enter the data manually or connect to your Excel sheets.
How it works
1. Connect your data sources
One-click real-time integration with our dashboards to the most popular CRM, support and other business systems.
See our integrations
2. Build dashboards
Use our prebuilt KPI dashboards or customize your own by using formulas to calculate more advanced metrics.
Learn more about our dashboards
3. Boost team performance
Share real-time insights with your team and boost performance by 20% with visualizing data on dashboards.
Read our customer stories
Explore Plecto's features
Real-time Dashboards
Visualize KPIs on TVs around the office.
Instant Notifications
Recognize and celebrate success as it happens.
Contests
Set up contests across any KPI in a matter of seconds.
Real-time Reports
Save time with real-time reports in Plecto.
Performance Agreements
Set targets for each employee and follow progress in real-time.
Achievements
Challenge top performers with records and special awards.
Start your free trial today
Get started in minutes. No credit card required.